Early literacy is not learning to read. Early literacy is the development of the skills needed to be able to learn to read. Don't get me (and child development experts) started on the madness that is expecting kindergartens to read.
A huge part of early literacy involves awareness and appreciation of books and print and starts way before formal schooling enters the picture. Even tiny babies can develop early literacy skills.
Why Is Early Literacy Important?
There's one basic tenet that underscores the importance of early literacy: Literacy is the foundation of all learning.
Eventually, all children will shift from learning to read to reading to learn. It's imperative that they can read well.
Developing early literacy skills makes reading easier and more exciting, and sets children up for a lifetime of knowledge retention.
Kindergartens with early literacy skills have an advantage that carries with them throughout their school years.
The development of early literacy skills:
Builds empathy
Expands vocabulary
Increases general knowledge
Improves attention span
Develops language
Encourages love of learning and books
What are the components of early literacy?
Print Anticipation
Print anticipation is being interested in and enjoying books.
Increase print anticipation by making reading aloud fun! Create a cozy reading nook and use all the funny voices and theatrics.
Print Awareness
Print awareness is noticing print, knowing how to handle books, and the ability to follow words on a page.
Build print awareness by surrounding kids with books. Let little babies grab, bang, and chew on sturdy board books. Encourage toddlers to sit with their books. Point to the words on the page while reading aloud.
Letter Knowledge
Letter knowledge is knowing that letters are different from one another, that letters have sounds and names, and that letters can be found everywhere.
When out and about, point out signs and letters to increase letter knowledge. Talk about what letter words begin with and sing alphabet songs. Ask young children to name the letters you point to when reading aloud.
Vocabulary Expansion
Knowing the names of things is important.
Expand children's vocabulary by talking about what's going on around you and pointing to the pictures as you read aloud.
Narrative Skills
Narrative skills are the ability to describe things and tell stories.
Repetition increases narrative skills. Luckily, toddlers and preschoolers love to read the same books over and over.
Phonological Awareness
Phonological Awareness is knowing that letters make different sounds, being able to hear those sounds, and picking out the sounds in words.
Reciting nursery rhymes, playing with rhyming words, and acting out songs (including dance parties!) are great ways to increase phonological awareness.
Do you see a common thread here?
It's reading aloud.
This one simple activity is incredibly important. Reading aloud with our children increases early literacy skills, releases dopamine, and makes for an easy, do-anywhere activity.
The Best Easy Early Literacy Activity
Checking out your local library is the best (and easiest) early literacy activity. Take frequent trips and hype it up every single time.
Attending storytimes is a great way to increase print anticipation and peer socialization. Participating in a reading program (like 1000 Books Before Kindergarten) boosts skills like phonological awareness and goal completion.
Every picture in this article was taken at our local library.
Other Easy Early Literacy Activities
Alphabet or book-specific sensory bins
Letter scavenger hunts ("can you find all the things that start with 'T?'")
Magnetic letter fun (use the refrigerator or cookie sheets)
ABC Memory Game: write each letter twice (use 52 notecards), flip over, spread out, and attempt to match the letters
ABC songs: sing the alphabet song, Bingo, etc.
Listen to audiobooks
Recite nursery rhymes (bonus points for "forgetting" parts so the child has to fill in the blank)
Match letters and sounds: using the same note cards from the ABC Memory Game, walk around the house affixing the proper letters with the proper items
Alphabet ball in the cup: label cups with letters and ask preschooler to throw a ball into corresponding cups for the letter sounds you make
Write or trace letters in unusual ways: in the dirt with sticks, with fingers in finger paint, etc
Make letters with homemade playdough
Label stuff around the house
A Note on Self Regulation Skills
It's ok if little ones can't sit still! Don't stop reading aloud.
My middle son (Little A) is at the age where he runs everywhere. Sitting down, for any reason, is not appealing to him. I just read while he runs. Eventually, his laps slow and he sits beside me.
Sometimes I read to the baby and ignore Little A. The same thing happens. Soon he's helping me pick out books "for the baby" and joining our reading circle.
Start with very short books and increase the length as you go. Praise your active toddler or preschooler for sitting still while reading, even if it's only for 30 seconds.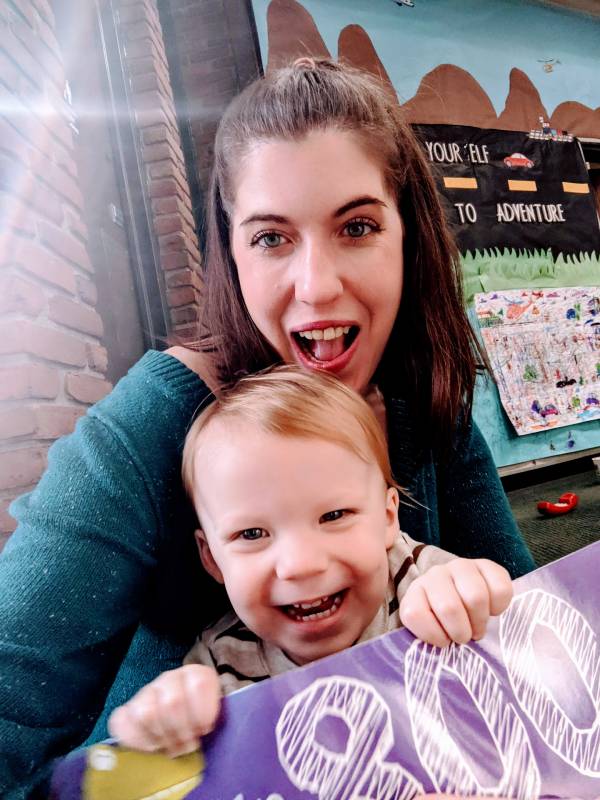 Happy Reading (Aloud)!
Love,