QRxLabs brings affordable skin care to the masses. It's me, I'm masses. Or, at the least, I'm a veritable skin care junkie. Keeper of half-filled bottles and those cardboard samples from magazines. And I'm fascinated by all the new skin care devices that make big promises. I'm a sucker for anything offering that anti-aging trifecta: brightening, tightening, and smoothing. And QRxLabs is simply the best. Enjoy my QRxLabs review.
Half of my skin care product collection features QRxLab's unassuming brown bottles. These serums, peels, and cleanser packaging are free of frills-but the formulas are free of parabens and silicone as well. What QRx skimps on packaging they make up for in genuinely effective formulas.
I started using QRx after seeing a positive review from Wayne Goss. After two years of loving their wares (along with thousands of other satisfied customers), I reached out to QRxLabs. They graciously sent me three more products to test and review.
My Favorite QRxLabs Products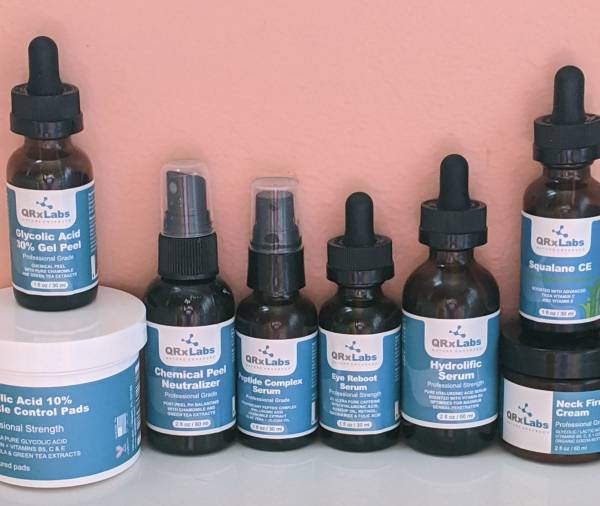 I use these QRxLabs every chance I get.
Morning Skin Care Products
Evening Skin Care Products
Weekly Skin Care Products
QRxLabs Review: Pros
Low Price
Seriously, y'all. I cannot stress how affordable these skin care products are. QRxLabs offers high quality, sophisticated formulas and techniques for less-than-drugstore prices. You can get a three step skin care system, or every anti-aging product your little heart desires, for a fraction of the price (especially compared to luxury brands).
Anti-Aging Benefits
The ingredients in QRx's serums and peels/exfoliants offers everything that this tired mother of three needs: true heavy hitters like niacinamide, glycolic acid, peptide blends, caffeine for my eye bags, and more. The serums help skin retain moisture, smooth fine lines and wrinkles, and even skin tone. The peels and exfoliants effectively remove dead skin (something that gets harder to do as we age). Speaking of…
Exfoliation Properties
I've touted exfoliation as a great anti-aging skin care step before, but I don't mind doing it again. Regularly removing dead skin cells, pollutants, make-up, and dirt help even skin tone and smooth fine lines and decrease pore size. In a quest for prime exfoliation, I've used all of their products: toners, peels, pads, microneedling, and more.
The results I've gotten with QRxLabs have been the best. Their glycolic acid products and lactic or salicylic acid peels get all the gunk off, revealing a softer, plumper, and more even visage.
Cruelty-free, Vegan, Sustainable
QRxLabs takes great pains to produce as humanely as possible. They don't test on animals, use recyclable packaging, source sustainably procured ingredients, and more.
Hydrolific Serum
Hyaluronic acid and Pro-Vitamin B5 are the star ingredients of this serum. Both attract and hold water. These ingredients draw moisture to the top layers of the skin, slightly plumping the face and decreasing the look of fine lines. Vitamin B5 has bonus healing and anti-inflammatory properties, soothing acne flare-ups. pigmentation issues, and broken capillaries.
On application, it feels like silk. The sensation remains all day. My skin feels supple, plumper. Over time, there's been a difference in the appearance of my forehead fine lines and crows feet.
Pure Plant-Based Squalane Oil Boosted with Vitamin E
Free radicals (caused by pollution, sun exposure, processed food, and more) wreak havoc on our skin. Anti-oxidants like squalane counteract these free radicals. Squalane also contains anti-inflammatory properties (a common theme with QRxLabs). These properties can heal acne scars, rosacea, and other skin sensitivity issues. Paired with Vitamin E (another powerful anti-oxidant), this serum is a serious anti-aging concoction.
These ingredients also encourage the production of collagen. As we age, we lose collagen, anyway. But lack of sleep, stress, and less than healthy eating habits (hello, adulthood in general, newborn parenthood specifically!) can chip away at already disappearing collagen stores. Collagen goes hand-in-hand with skin elasticity, meaning skin "bounces back" more easily. With more skin elasticity, skin is smoother, wrinkles less noticeable.
These ingredients both fight aging and work to heal the inflammation aging has caused. This product has the biggest impact on my skin tone. The Pure Plant-Based Squalane Oil is fading the broken capillaries on my cheek/jawline area. It's the last product I put on every morning. It's rather greasy, and easily penetrates the other skin care products applied beneath it. It leaves my skin with a glowy sheen.
Deep Facial Cleansing Oil
QRx claims this Deep Facial Cleansing Oil will "reclaim your baby skin." I would appreciate this more if I had particularly sensitive skin. It was a pleasant experience, the oil feels soft and rinses cleanly. I thought cleansing with oil would make my skin more oily, but that wasn't the case. Even wearing oily serums afterward, my face feels supple, not greasy.
I am invested in getting all the gunk out of pores, so QRxLabs' claims of a "deep cleansing experience" interested me more. Honestly, I can't tell if my face is any cleaner than usual. My make-up removing wipes aren't coming away with left-over residue, so there is that.
Eye Reboot Serum
This Eye Reboot Serum quickly became my favorite eye product. This formula contains 6% caffeine, and I like to imagine it's waking up my eyes. That's what it looks like, anyway. My eyes are nearly immediately less sunken. My dark circles aren't quite as purple. Over time, the fine lines in the corners of my eyes are less distinct.
The Eye Reboot Serum also contains hyaluronic acid, rosehip oil, niacinamide, retinol, green tea, and calendula extract. These are all anti-aging superstars, but niacinamide and retinol are my favorite.
And this serum lasts forever.
Peptide Complex Serum
Peptides. It sounds so vague and innocuous. But they lay the foundation of our skin. Peptides are short chains of amino acids that act as the building blocks of proteins our skin desperately needs like collagen, elastin, and keratin. These proteins are responsible for skin strength, texture, and resilience. Without them, skin is less firm, rougher, and weaker. Not a good look.
Chamomile is the standout of the Peptide Complex Serum. As QRxLabs seeks to heal skin, it's no surprise that they'd feature an ingredient hailed for its soothing and anti-inflammatory properties.
This is my favorite serum from QRxLabs. I apply two pumps as the first step in my nightly skin care regimen. This was the first QRx serum I used. The difference I saw in overall moisturization and fine line reduction impressed me enough to try other QRx products.
Lemon Verbena Neck Firming Cream
The neck is such an overlooked area, in terms of skin care. We should be treating it like the very bottom of the face. The neck shows sun damage and signs of aging as easily as the face. But the neck area can especially show aging. Mostly in the form of crepe or turkey neck.
The Lemon Verbena Neck Firming Creme combats this tendency with a blend of Alpha Hydroxy Acids that encourage collagen production and cell turnover (new skin being less saggy than old skin).
Royal jelly is another active ingredient. I love how soft it leaves my skin. My neck isn't noticeably firmer, but my skin is… tauter.
Glycolic Acid 30% Gel Peel
QRx uses heavy-duty, medical-grade glycolic acid with soothing anti-oxidants like pure chamomile and green tea extracts. That means this gel peel will mercilessly remove dead layers of skin that clog pores, exacerbate fine lines, and deaden glow without feeling harsh or causing reactions.
If uneven skin tone is an issue, this serum is the answer. Glycolic acid fades acne scars and hyperpigmentation.
I adore the exfoliating properties of this peel. My skin feels so soft, nary a hint of texture. I use this gel peel weekly, applying the Peptide Serum and a heavy moisturizer afterwardf.
Glycolic Acid 10% Wrinkle Control Pads
Each jar contains a substantial 50 pads (use once a week and that's nearly a years supply!) soaked with glycolic acid. This product is the gentler version of the QRxLabs Glycolic Acid 30% Gel Peel. If you're an exfoliant newbie (or have sensitive skin), these pads are a great place to start.
I use these pads every other week. I love the exfoliating properties of these glycolic products. My skin care products penetrate deeper. My skin tone is more even, its texture more refined.
Chemical Peel Neutralizer
If either the glycolic acid peel or pads do feel bothersome, a few quick sprays of the Chemical Peel Neutralizer will take the sting out. I'm never affected by the pads, but if the gel gets uncomfortable, I'll hit myself with the neutralizer before I rinse. No harm, no foul.
QRxLabs boasts an impressive anti-aging arsenal. The gel peel and pads efficiently strip skin of dead layers, while encouraging healing. Inflammation reduction is a common goal across their brand. QRxLabs products contain ethically sourced and effective concentrations of high quality ingredients at reasonable prices. I hope this QRxLabs review has helped you decide to give them a try
What's your favorite budget friendly skin care? Let me know in the comments. Share this article and spread the word about this hidden skin care gem!
Happy pampering!
Love,