It's 5:40 a.m. on a Monday morning when Morgan Thompson's fire alarm begins keening. As a father of a newborn, he's cautious. As a resident of Genesis Apartments (formerly Country Club Apartments), he's terrified.
Arriving firefighters are less panicked. Authorities are no strangers to Genesis Apartments, located on the southeast side of Richmond, Indiana. Scanner reports show frequent calls for drug use, noise complaints, improper burning, etc. According to Morgan, firefighters referred to the dwellings as "these apartments." Another agreed, "Yeah it's a real shithole."
See, these apartments are a systematic and long-standing problem. The statements of current and former residents paint a damning picture of living conditions. Old reports fill in the details. Three years ago, at least 22 apartment units at Genesis were condemned. Why and how are people allowed to be living in them? Is it a lack of code enforcement? Perhaps it's an issue concerning absentee owners investing in our community?
A Litany of Complaints
The residents of Genesis Apartments (formerly known as Country Club Apartments) report frequent flooding, mold-covered surfaces, inefficient (at best) plumbing and electrical systems, structural safety issues, and a lack of response from property owners and city officials.
Fed up with living conditions, Morgan created the Facebook group Victims of Genesis Apartments. When renters began posting pictures and comparing notes, common themes soon emerged.
Water, Water Everywhere
Flooding is prevalent in the lower levels of Genesis Apartments. Heavy rains pour through leaks and drains overflow. A leaky ceiling means it's always raining in the bathroom of resident Kennedy Foor. "Every time you sit on the toilet, water's just dripping down on you," she says ruefully. Outside her apartment is a water heater that frequently overflows, spilling water beyond its closet, saturating the entryway area carpet. In the week of writing this article, it flooded three times. Twice in the same day. I observed a sort of… gross water line, greenly edging the circumference of her entry way walls.
Whatever can leak, seems to. From plumbing to windows to porch light fixtures to toilets to roofs. In Shania Boldman's bathroom, it rains when her upstairs neighbors run a bath. At those times, she says her bathroom ceiling "leaks like a waterfall." Former resident Penny said her bathroom walls ran with water due to a "constantly running" upstairs toilet. The leaking and standing water is often black and thick with gunk. Former resident Denise Chorbajian said that her water heater, sink, and dishwasher frequently overflowed, causing her floor and possessions to be covered with "black, mud-like stuff."
Christian Smith showed me the buckling shower wall and crumbling tiles in his bathroom. Morgan and his girlfriend, Kirstan DeLucio, wear shoes to get from their bathroom to bedroom because their hallway frequently contains standing water. Their sink is constantly overflowing or filled with the debris from the leaking garbage disposal of an upstairs neighbor. A plumber told Morgan that the building's pipes were "so messed up they'd have to be dug up to be fixed."
Mold Problems
Saturated carpets and floors lead to saturated walls, leading to saturated drywall, leading to saturated insulation. Water seeps, it soaks, it spreads up and out. Standing water can lead to mold, mildew, and rot, and causes structural damages.
Kennedy and her boyfriend, Sean, describe the empty apartment across the hall from theirs as especially moldy. One afternoon Kennedy heard heavy footsteps outside her apartment door and voices exclaiming, "You gotta see how bad this is!" A noxious smell hit her, despite her closed door. When the voices faded, she peeked outside. The doors across the hall were open and the smell was stronger. She ventured over and saw "literal holes, big holes in the floor, filled with black, sludgy water." The surfaces of the walls were ripped away, revealing interiors black as night, an abyss of mold and mildew.
When I visited Genesis Apartments, I saw mold and mildew everywhere. Green and gray, black and brown; in cabinets, along floorboards, flung across ceilings and walls like dysphoric abstract art. Current and past residents attribute the rampant mold at Genesis Apartments to respiratory and health issues. Some, like Kennedy, received confirmation. "My doctors said nothing is wrong with me but where I'm living," Kennedy recounted to me. One former resident obtained a doctor's note directly stating so. I'm no doctor, but I can attest to the terribly musty smell permeating every structure I entered.
Structural Concerns
Many of the apartment buildings have issues with their stairs. Stairs leading to both Thompson's and Foor's apartments have collapsed. Both buildings had 2x4s precariously wedged under the stairs to prop them up. After an incredulous Kennedy posted a pic of the repaired step, maintenance barred access to beneath the stairs by screwing the door shut. Kennedy, diagnosed with a mild form of cerebral palsy and a recipient of multiple knee and hip surgeries, cares about safe stair access. "I'm so afraid of falling through [the stairs], especially while carrying my son."
There are holes in walls and under sinks. I saw windows that let in the elements, weather and human. They were without screens or wedged shut with PVC pipes. I walked across little hills in kitchen floors and under sagging ceilings.
Disrepair
Genesis Apartments renters report frequently broken AC and heating units, water and electricity issues, nonfunctioning windows and doors. There are laundry rooms with no lighting that contain dryers with "No Heat" scrawled on them with markers. A hallway fire extinguisher is nestled in a busted out case, covered with debris and looking questionable. On my visit, I tripped over loose floor tiles in doorways and sidestepped fallen shingles in the parking lot.
A Lack of Response
From the Property Owners
Residents attest that repairs in their buildings are done in an untimely, shoddy manner. The problems in Shania's apartment were "taped up, just like the air conditioners and heaters." Mold-covered walls in Morgan's apartment were "just painted over, I can see [the mold] coming back through the new coat." It took four months for Kennedy to get a cover for the open outlet in her son's room. It wasn't uncommon for maintenance workers to tell her they were going to their truck and then failing to return.
The posts in the Victims of Genesis Apartments Facebook group are full of complaints about property owners discounting requests and concerns. One resident asked for new carpet after her air conditioner leaked and flooded her apartment. She was told that the carpet would "dry out." Another resident was told that black mold doesn't make people sick.
From the City
After Genesis Apartments residents began pursuing other channels they continued to feel ignored. Morgan Thompson, the founder of the Facebook group, has been the loudest. For weeks, he reached out to the Wayne County Health Department, City of Richmond Building Commissioner, City Councilperson, Richmond Code Enforcement, the Housing Authority of the City of Richmond, the Mayor, the Fire Chief, Whitewater Valley Pro Bono Commission and even the Governors office.
Thompson started the Facebook group in early February. A couple of weeks later, Morgan received a phone call from AJ Sickmann, Richmond city attorney, who promised to "check out the legality of this." Thompson also received emails from Beth Fields, Director of Infrastructure and Development at the City of Richmond. She referred him to Richmond Building Commissioner Aaron Jordan (who Morgan had been contacting since early summer), among other suggestions.
On February 11th, Aaron Jordan arrived for an inspection of the apartments. Morgan was unimpressed. Morgan told me that, "Jordan found [the collapsed stair and its repair] acceptable after putting his weight on it and it not giving out." An official from the Richmond Fire Department inspected the property on February 18th and 19th (the week Thompson was woken by the smoke detector). Richmond City Councilperson Bill Engle and other officials toured the property on February 19th as well.
A Two-Fold Problem
The origins of the Genesis Apartments problem are both remote and local.
Who Even Owns This Place?
In legal paperwork, the owners of Genesis Apartments are listed as S 23rd St Apartments LLC. It's difficult to pinpoint who exactly owns Genesis Apartments due to a tangled web of various LLCs and property transfers. The owners are based out of California. The property most recently traded hands for a cool $4.9 million.
This isn't the first time Richmond has been burned by outside interests. The Old Reid Hospital property was a disaster for many years. (And would you believe the primary owner who let it sit rotting continues to make headlines in Delaware?) The Old Reid Hospital property was an eyesore we had to look at every day. Genesis Apartments is an eyesore that hundreds of people live in every day.
Not that I think there's anything inherently wrong with out of state interests investing in our community. But it seems a lot easier to let property fall into disrepair when you aren't living and working in the same community with the people who have to live in your dilapidated housing.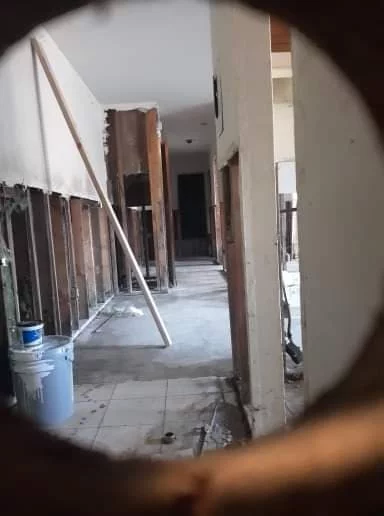 Who Moved People Back In?
In an email to Thompson, Beth Fields writes, "We have no records of condemnation of the property by the City of Richmond." Which is weird, because I do have records of condemnation.
In the late summer of 2017, at least 22 units spread across 12 buildings at Genesis Apartments were condemned.
Three condemnations were listed in two official letters from the city to the former property owner. Other condemnations are cataloged in a list of code violations. This list was widely disseminated in meetings to maintenance men and property managers, city and safety officials. Almost all condemnations were due to standing water and mold issues. Upon observing "unsanitary conditions" on August 31st and September 1st, 2017, environmental health specialist Dan Burk declared Genesis Apartments a public nuisance. The former property owner was informed of this status via official city correspondence.
Beth went on to write, "We do have records of previous inspections, violations issued, and follow-up completion of the addressing of the issue so the unit meets Indiana code." My records indicate a lack of follow up. Particularly in the form of city correspondence scolding the former property owner for the continued presence of standing water. Water and mold issues littered the code violation list, even for non-condemned apartments. Nearly all these violations shared the same follow-up procedure: "Find and repair water source."
I don't believe the water source was ever truly found and repaired. Neither do the residents reporting and posting about all their water issues, and neither did that plumber who came to work on Thompson's sink. Every former and current (2015-present) resident I interviewed spoke of mold and water troubles. The very same troubles attributed to the 2017 condemnations. I don't believe this is a coincidence. Violations issued should have been better enforced.
Even if every formerly condemned apartment were empty, pervasive standing water presents structural problems for the whole building. A closed door to an empty apartment doesn't stop other inhabitants from experiencing mold issues.
And not all the formerly condemned apartments are empty. Morgan Thompson's family currently lives in a formerly condemned unit. His friend Sherri Lewis lived in one too (until she moved upstairs after it flooded again). Another formerly condemned unit in Morgan's building is currently occupied. By a family with kids. In another building, Tim Case lives in a formerly condemned apartment.
Genesis Apartments brings shame to the City of Richmond. Not because it is old and run down. Not even because people are living in terrible conditions. But because it has been a known issue with no remedy in sight. The officials who are tasked to protect our citizens aren't.
Share this article. Perhaps increased awareness will provide a quicker remedy.