I'll have both my toddler and preschooler home all day during winter break, and I gotta be honest: I'm a little terrified. I'll need some easy Christmas crafts to take the edge off.
I've scoured the interwebs for a variety of crafts that can be done quickly with common household items. These activities keep toddlers and preschoolers engaged. But I can't promise they won't still fight.
Are y'all always losing socks somewhere during the laundry process? This easy Christmas craft helps you put orphaned socks to good use. This craft is so easy and it doesn't even require needle work!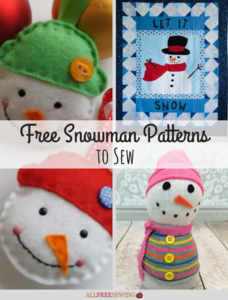 If you enjoy this project, All Free Sewing has all kinds of other patterns and ideas to enjoy!



Big A has been really into reindeer this Christmas. He stands at the tree, pointing at the reindeer ornaments, showing me antlers with his little hand at the side of his head. I know he'll love these homemade reindeer puppets.
Last year, the boys loved mixing up this dough and cutting out shapes. It's a great sensory activity too! The painting portion will help develop their hand-eye coordination and fine motor skills as well.
With all the baking this time of year, there's aluminum foil to spare. This craft is as pretty as it is sensory. The glitter and glue; the sound and feel of working with the foil will give the boys their fill of unique sensory stimulation.



This is another great sensory craft! All you need is construction paper, glue, shaving cream, and sandwich bags (googly eyes are a bonus). The A Team will squeeze these bags for hours, man.
(Psst! This blog has soooo many other cute snowman crafts.)
A painting activity that doesn't involve getting one's hands messy?? Big A is gonna love this.
The article also offers book suggestions that correspond with the craft. I loved that.
A gingerbread house without frosting getting stuck in the crack of the dining room table?? Count me in.
I was wondering what to do with all the felt that seems to accumulate in this house.
This is a genius idea.
A cheap frame, a couple of ink pads, and cute little fingers? Grandparents are gonna lose their freaking minds.
Let Amazon help. This button wreath ornament is a cute and easy craft, garnering a 4 star rating.



This isn't exactly an art project, but it is an activity that'll keep 'em busy while encouraging fine motor development.
And there's a free printable so you don't actually have to draw anything. Thanks, Activity Mom!
Handprint Snow Globe
This was an activity our Birth to Five Parent Educator brought over during a visit last year. The boys liked doing it and I think it's an adorable keepsake.
Cut out a snow globe out of paper (any kind, really). Nothing too hard: circular at the top, rounding down to the base. Kinda like an old-timey scuba helmet. Or I bet there's a pattern online. Cover child's hand with paint and press handprint in the middle of the snow globe. Place a bit of fake snow in the reservoir of a small clear plastic (disposable) plate. Place hot glue around the edge of the plate and press to the circle to create the snow globe.



Again with the reindeer! We've got plenty of construction paper, and this seems like a fun way to encourage imaginative play.
Will you be making any of these easy Christmas crafts with your kids this year? I want to hear about your projects and plans. Share this article so you'll have something to refer to when stuff really hits the fan over Christmas break.
Happy crafting!
Love,
Pin Me!